Support Women and Minors of Ohio by Rejecting the Proposed Amendment
A radical abortion ballot initiative is underway in the state of Ohio.  The proponents of this initiative seek to amend the state constitution and enshrine a right to abortion at any time during a pregnancy. The initiative would eliminate all restrictions on abortion, including parental rights and other health and safety standards that are currently in place.  In eliminating the protections for minors regarding abortion, the initiative takes a step further by including the negation of parental notification and consent before their child undergoes sex change surgery as well.  The abortion proponents crafted this initiative in such a way to make sure to allow abortion through all nine months of pregnancy for anyone, including minors.
---
Abortion in South Dakota?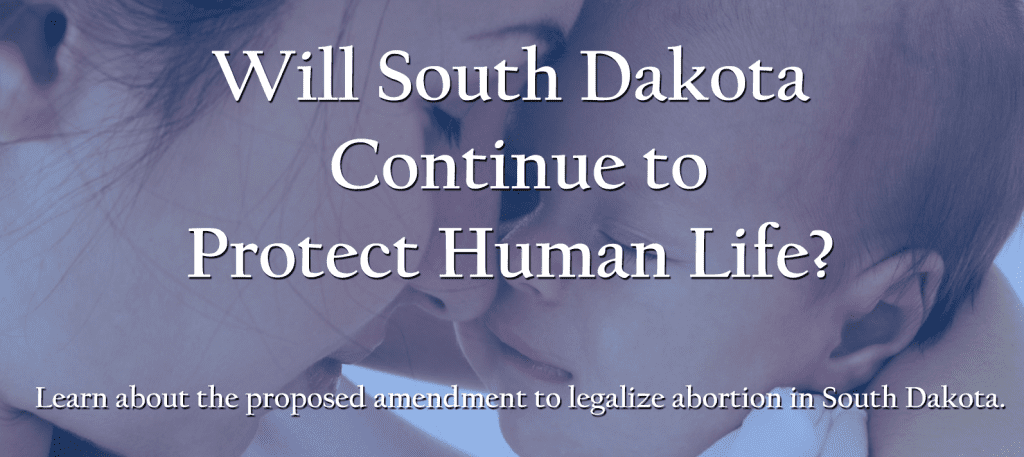 Alarmingly, an effort is underway to overturn South Dakota's pro-life laws. A citizen-initiated proposal seeks to amend the state constitution to create a nearly unlimited right to abortion.
Read more here.
---
On April 19, 2023 the Senate voted 51-48 to go against the longstanding policies of the Department of Veterans Affairs (VA) and Department of Defense (DOD) by pushing to implement providing abortion services through the taxpayer-funded VA health care system. This is a break with long-standing federal law to push abortion-on-demand.  Taxpayers do not want their tax dollars being used to pay for abortions, that includes using this money for VA medical facilities to provide publicly funded abortions. This is a radical and harmful shift in military policy and should be overturned.  For more information see the letter from the Most Reverend Timothy P. Broglio, Archbishop for the Military Services and Most Reverend Michael F. Burbidge, Bishop of Arlington.
---
Abortion and Public Policy: Review of U.S. Catholic Bishops' Teaching and the Future
The abortion issue, the United States Supreme Court asserts in its June 24, 2022 Dobbs opinion, is to be resolved not by the Court but by "the people and their elected representatives."
In a recent article, Dr. Michael Taylor, the Executive Director Emeritus of NCHLA, examines how the development of the abortion issue provides perspective on the challenges before us. He steps back from the new legal situation created by Dobbs and reviews how the U.S. Catholic Bishops' teaching on abortion and public policy has interacted with the U.S. legal context both before and after Roe.
---
Abortion and Catholics | Archbishop Sample