This portrait of Father Augustine Tolton by artist Sally K. Green was featured at a Black History Month tribute Feb. 12 at St. Dominic Church in San Francisco. The gathering was "educational and prophetic," said Deacon Chuck McNeil, who organized the event with the St. Dominic Friends in Christ Ministry. Tolton, born into slavery in Missouri, was ordained a priest April 24, 1886, in Rome, and said his first Mass at St. Peter's Basilica. A theological commission has unanimously recognized his "virtuous and heroic life," advancing his sainthood cause and moving America's first African-American priest a step closer to being declared "venerable" by Pope Francis.
February 28, 2019
Rick DelVecchio and Christina Gray
February's celebration of Black History month prompted reflection on the U.S. Catholic bishops' first pastoral letter on racism in 40 years, an initiative that encourages discernment, conversion, prayer, teaching and preaching on racial attitudes the document defines as "a failure to the acknowledge another person as a brother or sister created in the image of God."
The letter, issued last November and titled "Open Wide Our Hearts: The Enduring Call to Love," maintains that the harm racism causes is an attack on human life that the faithful must oppose as consistently and forcefully as they do abortion, assisted suicide, euthanasia, the death penalty and other forms of violence against the human person.
"Too many good and faithful Catholics remain unaware of the connection between institutional racism and the continued erosion of the sanctity of life," according to the document, which is the U.S. bishops' first pastoral letter on racism since 1979.
Bishop Shelton J. Fabre, Bishop of Houma-Thibodaux Diocese in Louisiana, chair of the bishops' Ad Hoc Committee Against Racism, and committee staff took part in a Feb. 12 webinar with Catholic media representatives hosted by the Catholic Press Association. Marking Black History Month, the event detailed the letter and discussed institutional and personal actions Catholics may consider in response to it.

Protesters are seen near Capitol Hill in Washington May 21, 2018, to demand elected officials take immediate steps to confront systemic racism. A U.S. bishops' pastoral letter on racism issued last November invited teaching, preaching, prayer, encounter, discernment and conversion by Catholics on personal and institutional matters of race. (CNS photo/Tyler Orsburn)
Encounter, teaching, preaching
The responses include personal encounter with groups different from one's own, teaching that human origins and salvation in Jesus are common to all and not exclusive, and homilies on racism.
The letter also urges priests to speak about racism or Christian unity, or both, in more than once-a-year liturgies during Black History Month and for parishes to become centers of education, encounter and justice.
The letter, developed in the years following the 2014 shooting of Michael Brown, an unarmed black teenager, in Ferguson, Missouri, points to no less than a complete "conversion of heart" for individuals and institutions, including the church itself.
Racial prejudice, discrimination and hate continue to fester because "as a nation there has been very limited formal acknowledgement of the harm done to so many, no moment of atonement," the letter states.
The letter, which is available on the U.S. bishops' website, acknowledges the discrimination endured by Irish, Polish, Italian, Asian, Puerto Rican and Eastern European immigrants to the United States, and recent waves of anti-Semitic and anti-Muslim sentiment. It has extensive discussions on the "particularly brutal" impact of historic racism on African-Americans, Native Americans and Hispanics.
The poverty experienced by many in these groups has its roots in racist policies that continue to impede individuals' ability to find affordable housing, meaningful work, adequate education and social mobility, the letter states.
Apologizing for church's sins
The letter apologizes for the church's own sins of racism, such as slave ownership or commerce. It notes that "not that long ago in many Catholic parishes, people of color were relegated to segregated seating and required to receive the Holy Eucharist after white parishioners."
In one historic Catholic response preceding the letter, Georgetown University in Washington, D.C., publicly acknowledged its history regarding the institution of slavery. In 2016, the university responded with measures including reconciliation, engagement, memorialization, research, and teaching on public history and giving slave descendants the same consideration in the admissions process as members of the Georgetown community.
Some U.S. bishops, notably Archbishop William E. Lori of Baltimore, have drawn on the bishops' letter in responding to local concerns. In a February 2018 pastoral reflection titled "The Enduring Power of Dr. Martin Luther King Jr.'s Principles of Non-Violence," Archbishop Lori decried the enduring gun violence in Baltimore and conflicts between residents and law enforcement.
"Weighing heavily on our minds and hearts is the sin of racism that continues, sometimes overtly but often subtly, to insinuate itself in our relationships, institutions and communities of faith, including our own," Archbishop Lori wrote.
But some Catholic critics have said that although the letter is a step forward, it does not go far enough.
"Readers of the text are led to believe that oppression, subjugation, genocide, chattel slavery, racist violence, unjust legislation, and so, on merely befell people of color as if by chance," wrote Daniel F. Horan, a Franciscan friar and assistant professor of systematic theology and spirituality at Catholic Theological Union in Chicago, in a Feb. 20 article posted on the website of National Catholic Reporter.
"But the truth is that racism is a white problem because in this society whites hold the power, establish the institutions and set the social norms," Horan continued. "And the new document does not come anywhere close to acknowledging or clearly stating this fact."
Catholic San Francisco reached out to clergy and academics in the Bay Area for their thoughts on the bishops' letter and the underlying concerns.
Christian theology and racial justice
Alison Benders, associate dean of the Jesuit School of Theology at Santa Clara University and a lecturer on systemic theology, teaches a course that examines race, theology and justice. She said Christian theology has long been used to justify white exploitation of non-white groups and it continues in ways that "maintain the status quo."
"'Manifest destiny' was the motto that meant God destined white-Europeans to conquer the Western hemisphere 'from sea to shining sea,' regardless of how many African and American indigenous people lost their lives in the grand conquest," Benders said. The "Puritan work ethic" that stemmed from that still blames people excluded from wealth and opportunity for their failure to get ahead rather than looking at unjust social structures, she said.
She said the "people in the pews" can resist racism by paying attention to the "color line" in the nation. "It takes honesty to see our nation as it is and take responsibility for what it does," she said. "We must claim racial injustice as our problem."
Deacon Chuck McNeil at St. Dominic Parish in San Francisco said the bishops' decision to call racism a "life issue" is "brilliant" because it aligns so naturally with Catholic social teaching.
"We Catholics believe that all men, women, children all have inherent value and worth," said Deacon McNeil. He believes Catholics have separated life issues, "putting abortion over here and poverty over there."
"We can't be concerned about the unborn and unconcerned about people at the borders," he said.
Deacon McNeil spoke about the bishops' use of the word "conversion" as it applies to racism.
Conversion for the Christian, he said, entails taking on a "completely new field of vision," a term he said was coined by Jesuit priest, theologian and philosopher Father Bernard Lonergan (1904-1984).
"If we are baptized into Christ everything is completely new," said Deacon McNeil. "If you are a baptized person you are an entirely new creature and you have to think and act as a Christian. It's a total new horizon Catholics are being called to."
He said he has noticed that very few priests in the church use the new eucharistic prayers that specifically mention a diverse celebration where God gathers "people of every race, language and way of life" to share in the one eternal banquet with Christ.
The Eucharist is a sign of reconciliation, he said, "and the needs to be reconciled need to be named specifically."
For several years running, Deacon McNeil has organized a tribute to Father Augustus Tolton for Black History Month together with the St. Dominic Friends in Christ ministry. Father Tolton is America's first African-America's priest and is in line to become America's first black saint. On Feb. 5, the feast of St. Agatha, a nine-member Vatican theological commission unanimously voted that Father Tolton's cause be moved forward to the cardinals and archbishops in the Congregation for Saints' Causes for a final vote to send a decree of the priest's "heroic virtues" to Pope Francis for his approval.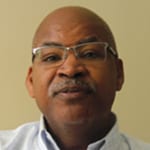 'If you are a baptized person you are an entirely new creature and you have to think and act as a Christian. It's a total new horizon Catholics are being called to.'
–Deacon Chuck McNeil, St. Dominic Parish, San Francisco
An 'educational and prophetic' gathering
The Feb. 12 gathering at St. Dominic, which included a blessing of a painting of Father Tolton by artist Sally K. Green and a reflection by Tolton advocate Debbe Kennedy, drew almost 100 people.
"Here we are in a very divisive country where people can't have a conversation about race without name calling, and we had a packed chapel of white people, black people, Asian people, Hispanic women praying together," he said. "It was educational and it was prophetic."
Paulist Father Bart Landry, former pastor of Old St. Mary's Parish in San Francisco's Chinatown and now in residence at St. Paul of the Shipwreck Parish in San Francisco, spoke about his experiences as an African-American priest.
"I oftentimes feel that I am a black man in a white man's world when it comes to my vocation in the church," he said. At the same time, he wants people to look beyond his race.
"I don't want to be seen just as a black priest," he said. "I want to be seen as an African-American man who responded to the generosity of God's call to the priesthood and acknowledge the contributions I can make as an African-American."
He said he knows that the Mass as celebrated by African-Americans makes some bishops and priests uncomfortable and wishes the church could embrace a diversity of liturgical styles.
"I think some fail to recognize it as Catholic liturgy," he said. "What that says to a culture of people is that you must worship how I do.'"